About Us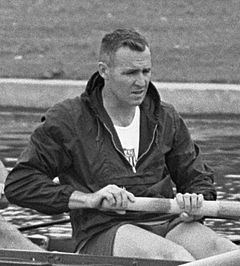 The Knecht Cup Regatta honors the memory of William J. Knecht and his passion for the sport of rowing.
Every year the Knecht Cup invites colleges from across the country to compete in a 3 day event.
William Joseph "Bill" Knecht (March 10, 1930 – December 17, 1992) was an American competition rower. He took up the sport at La Salle High School , and later went to Villanova University, graduating in 1951. In 1946 he joined the Vesper Boat Club and won multiple national titles with them. Internationally he earned gold medals in the eights at the 1955 Pan American Games and 1964 Olympics, and in double sculls at the 1959 and 1963 Pan American Games.[3] He also took part in the double sculls event at the 1960 Olympics, paired with John B. Kelly Jr.,
Bill's total involvement in rowing never ceased. Bill became a member of the U.S. Olympic Rowing Team Committee and a judge at the 1992 Summer Olympics. He's a member of the American Rowing Hall of Fame and a founder of the Cooper River (NJ) Rowing Association. He was President of the National Association of Amateur Oarsmen, he was the American delegate to FISA, the world rowing governing body, he was one of the founders of the National Rowing Foundation, and the creator of the rowing course on the Cooper River, in Camden County NJ.